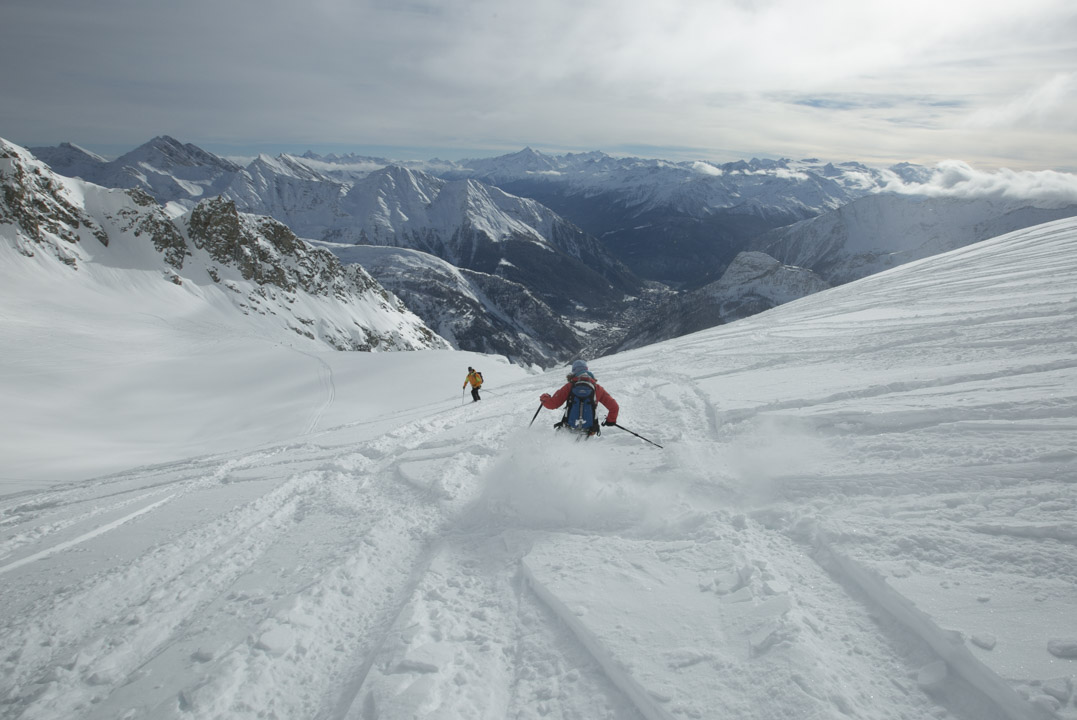 15 Jan

Why do we love skiing Europe? It's what makes us tick
Why do we love skiing Europe? It's what makes us tick
Why do we love skiing Europe when there is so much great snow around the world? We agree each destination is unique… so why are we so attached to Europe?
Skiing Europe is so much more than just skiing
A ski safari in Europe has a lot more to offer day and night than you might think. That first warming sip of glühwein in a centuries-old alpine square as huge snowflakes fall around you, lunch in a charming little buvette which is also where cows are milked in the summer: these unique moments really add something special. After a cold day on the mountain, warming yourself in front of a log fire before ordering your fondue coupled with a bottle of fendant cannot be replicated anywhere else.
Get away from it all when skiing Europe
A Swiss mountain cabin open in the depths of winter is a rare find. Skiing Europe with an expert guide can mean escaping the crowds into peace, solitude… and exquisite views. One cabin that we particularly love is an oasis in a sea of four thousand meter mountains. Coming across the 3000m altitude refuge at the end of an exhilarating, physical ski touring day is a real delight. From this height, the tallest alpine peaks spread out around you for miles and miles. You literally feel on top of the world. Plus, this secret gem is only visited by locals in the know, so you know that you have truly escaped the tourist crowds.
European Skiing can be romantic
One of our favourite experiences is delving into a snow-covered forest to escape the world for a night. The most indulgent way is to transfer via helicopter to a secluded tree house and take a dip in the fire-heated Swedish hot tub. With a waiter on hand serving aperitifs while you soothe aching muscles in the bubbling water, the irresistible scent of a hearty meal wafts up from the kitchen. Your delicious dinner comes next before the staff leaves you to follow a candle-lit wooden walkway to the private treehouse bedroom.
Immerse yourself in history while skiing Europe
The areas we work in were the pathways for the Romans, Hannibal, Napoleon and much, much more Alpine history. Feel the past in the air as you unwind in the hot waters, whirlpools, saunas and Turkish baths of a particular village deep the Italian Alps. Frequented since Roman times, it's easy to see why their therapeutic waters are still popular. Afterward what could be better than an aperitif in a local bar where the furnishings testify to five centuries of architecture and beauty? The 18th-century coat of arms carved during the French revolution proudly sits above a 15th-century fireplace: just one of the many historic wonders not to miss.
So what do we in our time off?
Based where France, Italy, and Switzerland touch each other, it is difficult to stay put. When skiing Europe, there's something special about crossing today's open international borders on the top of a snowy mountain.
A place I love to go to think is the top of a remote mountain pass between Switzerland and Italy. A ski touring hike up to a monastery first mentioned in 1125. This pass was an important trading post for centuries on what was the only road between northern and southern Europe. Monks have guarded it since the 10th century, inhabiting the monastery at the top. During the winter, the only way to leave the monastery is by ski or snowshoe. I love the greeting I get from the monks, as they offer me a specially prepared tea. If the day permits it is then a real treat to pop over to Italy for lunch at a fabulous restaurant hidden in the middle of an ancient village. People travel for hours to discover and enjoy this hidden gem.
If you're looking at your options for this winter, check out our blog on 5 things to consider when choosing your next ski trip.
Skiing in Europe is an experience like no other and SwisSkiSafari can put you on the inside track for an unforgettable journey through the Alps.
Warm regards from the mountains,
Danielle