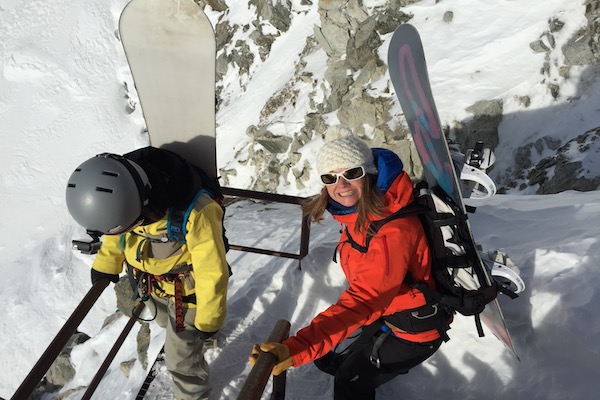 18 Sep

What mountain gear should I pack for my trip?

The number one question we are asked by guests before a ski safari is regarding the type of mountain gear to pack for the trip. Below we have some tips for you. Our luxury skiing and hiking trips in the European Alps start at home as you pack your bags.
Footwear
After my two treasured pairs of Jimmy Choo's, the goddess of all footwear, I would say my favourite mountain gear is my latest trusty ski boots. Right now I'm in Dynafit TLT Ski touring boots: just enough rigidity for skiing with plenty of room and flex for the walking part of ski touring. 
These boots were made for walking
Whatever mountain gear, from your boots to your backpack you'll want to stay comfortable. Don't buy hiking boots in the same size as your city shoes. Go one size up. That way your feet can expand when you get hot, and your toes don't bash the front when you're going downhill. No black toenails needed here. Always ensure they are done up tightly around the ankle, but make sure the laces over your foot leave room for feet to shift a little. No point in squashing the veins on your feet – you'll need those. For more information check out our blog dedicated to this topic: What to know about hiking shoes for the Alps
Ski and ski touring boots
Your most important mountain gear for a ski safari are your boots. The comfort of these boots depends a lot on the skill of the person fitting them. The inner lining needs to be heat moulded to your feet, with plenty of space for your toes. Make sure your fitter knows their stuff! Beware of a carbon fibre outer shell. Although trendy, carbon fibre is very rigid and won't allow torque or any manipulation. It's expensive and not always comfortable. Go for a material that allows your boot man to modify: you'll appreciate it on the mountain. Comfort needs to be earned. No new boot, even if moulded, will be 100% comfortable straight away. This applies to all of your mountain gear, wear them in, ski, climb, hike and test out your equipment well in advance of any big trip to make sure you're as pain-free as possible when there.
Boots for crampons
Donning crampons on your safari? Crampons are essential gear for the mountain when you start to do more challenging skiing and hiking. Boots for crampons have rigid soles to ensure the crampons don't fall off, but the hard sole doesn't allow your feet to roll, especially if you are small and light. The lighter you are, the softer you'll want your shoe to be, as long as it's got adequate rigidity for your excursion. My cheat's tip? For your summer trips bring light running shoes for the dry approach to the ice, but only if it's safe and your guide approves. The weight of your boots in your rucksack will be hard to carry, but it's worth the trade-off if the approach is long, and you have difficult feet.
Backpacks are a must for your mountain gear list
Comfort is key, so be sure to ask the shop for at least 6kgs in weights to test out any new rucksack. It needs to fit snugly to your body, and feel secure. Size matters. Women's backpacks are usually slightly shorter in length, to fit into women's shorter backs. At the moment I'm using a Deuter Alpine Guide which fits me perfectly. Our guides want you to be comfortable on a safari, so will go through the contents of everyone's backpacks before a trip, and suggest what can be left behind to save weight. You'll reach a compromise and be lighter for it.
For Alpine hiking and climbing, a pack with no external pockets or straps is safer. Aim to bring a backpack with minimal extra pockets and pouches. Instead, make sure your backpack is smooth, and your jacket has pockets which can be accessed easily when the waist strap of your backpack is tight, so your camera, tissues or suncream are close to hand.
Et voila. You're perfectly kitted out with what mountain gear to pack for your next alpine safari. You can thank us later.
If you would like to read about SwisSkiSafari in the media here is our latest news in  The Robb Report
Check out examples of some of our most fun ski safaris for inspiration.
Warm regards from the mountains.
Danielle