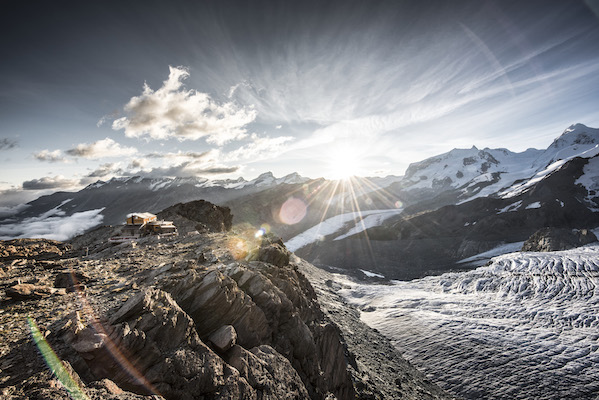 03 Apr

A week of hiking through Switzerland, Italy, and France
It's the time of year to plan a week of hiking
It's almost time for hugging trees. Walk through meadows full of wildflowers, gaze at snow-capped peaks just beyond your reach over a week of hiking through Switzerland, Italy, and France. Don your hiking boots, throw on a backpack and join us on a walking safari across the Alps, all in 7 days.
Begin your week of hiking under the Matterhorn
Zermatt is the home of the most photographed mountain in the world, the Matterhorn (for English and German speakers), Cervin (for the French) and Cervino (for Italians). To the music of bell-toting cows preparing the climb to high mountain pastures, pass through Zermatt's narrow streets between ancient wooden chalets before hiking the nearby hills. At the end of the day, the penny drops as to why there are so many cows when you sample a specialty of the area, raclette (melted cheese and potatoes) made from local cheeses. Yum.
In this region three countries come together, France, Italy and Switzerland
In this area in a week of hiking, you hike three countries. Start your trip in Switzerland; continue with a hike across the border into Italy. You will discover routes that have been used by Celts, Romans, Lombards and perhaps the most famous hiker of all in these parts, Napoleon. Monks have protected ancient Alpine paths for hundreds of years. On a part of the journey, you may want to spend a night in a traditional mountain refuge. Breezes blowing from distant glaciers ensure a crisp, long summer evening as you watch the sunset fade behind the highest peak in Europe, the 4,800 meter Mont Blanc.
The descent back to civilization takes you over mountain passes
Follow rugged paths and cross meadows full of alpine flowers. If you are lucky you may see marmots and even chamois. On arrival in Italy, unwind in the thermal springs, whirlpools, saunas and Turkish baths that have been frequented since Roman times near the Mont Blanc.
Crampons and t-shirts
At the end of your week of hiking be sure to hike over a 10,000-meter high glacier from Italy into France. The contrast of crampon-clad feet cracking the ice below you, while wearing just a simple t-shirt on top makes this even more exhilarating. Make sure you pause on the glacier to enjoy Alpine delicacies, cheeses and local wines, all in the shadow of the Mont Blanc.
Finally, finish your week of hiking exploring the cobbled stones streets of ancient villages.
We think that a week of hiking should be a luxurious week combing three countries Switzerland, Italy and France. Combine nature, fresh air, and a satisfying physical challenge in the Alps crossing three countries in a week. Get in touch for your tailor-made itinerary across the European Alps
Warm regards from the mountains.
Danielle