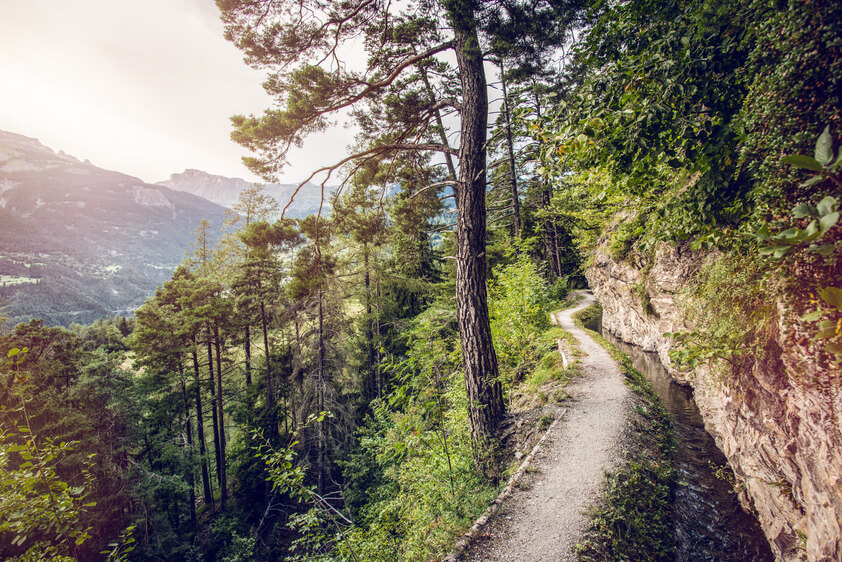 04 May

Trekking Vacation in the Swiss Alps
Hike ancient waterways
When you think about a trekking vacation in the Swiss Alps you don't necessarily think of water. Why would you? Switzerland is a land locked country.
However, water plays a big role in Swiss mythology and history as well as some of the spectacular trekking routes in the Valais region. These routes follow ancient irrigation channels called bisses. There is an image of one of the most famous bisses built in 1442 on the 100 franc note. This channel connects the village of Ayent, my home village, to the mountain village of Grimisuat, continuing all the way to the spectacular dam Lac de Tseuzier.
Discover a bisse on your trekking vacation in the Swiss Alps
Bisses were constructed to irrigate pastures at altitude in the Valais. To achieve this, many follow spectacular routes transporting water through hanging wooden structures tacked on to sheer rock walls with vertiginous drops below. Thankfully many have been restored, allowing us to safely hike alongside them today. With a few tree roots and obstacles along the way, these routes are mostly flat as they snake across the mountain, meaning hikers are able to cover big distances beside them.
Enchanting forest walks
In our region we have evidence that the bisses date back to Roman times. They still transport water from high meadows to the dry lower valleys for cattle, drinking water and irrigation for farms and vineyards. These trekking routes usually sit at low to middle altitudes, making them wonderful at the start of the season, being the first to clear of snow after the winter melt. Right now the forest is starting to come alive and the animals are popping up after the winter, creating enchanting forest walks.
Refreshing in the heat of summer
We also love the bisses in the heat of the summer. It may be hard to imagine, but a trekking vacation in the Swiss Alps in the middle of summer can be a hot one. Our summer sun here is strong. The bisses, being sheltered by the forest, often offer lovely, refreshing hikes between valleys and villages. These ancient routes are a less strenuous, stunning way to navigate this mountainous region in the Swiss Alps.
Wellness on the radio
An exciting event happened this week for me in confinement. An interview on World Radio Switzerland. This was fun. I took the opportunity to talk about our new wellness trips: have a listen here https://worldradio.ch/article/swisskisafari/
Our wellness trips came about after I discovered how to treat my allergy and Katt, the interviewer, was interested to hear more. We are all thinking about our health right now and some of us are working hard to look after companies and teams, so it felt like the perfect moment to talk about these trips.
Why not reward yourself with a week to look after your health when we start to come out of virus days?
https://www.swisskisafari.com/summer-safaris/wellness-hiking-safaris/
Warm regards from the mountains
Danielle