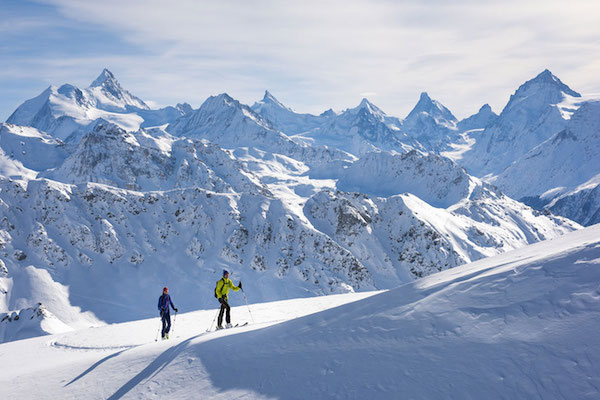 11 Mar

The New York Times calls it uphill skiing, we call it ski touring
"Uphill skiing: subtract crowds and lift lines and add cardio." 
We love this definition of ski touring by the New York times. Uphill skiing is the fastest growing trend in Alpine skiing. Ski touring has been very popular in Europe for the last 15 years and now it looks like the rest of the world is catching up. Uphill skiing in the past was and an activity practiced by hard core specialists. Ski touring can be adapted to your level. If you can do a slow jog, you can enjoy ski touring. It is a sport available to the normal skier who is looking for a new adventure.
Uphill skiing is called ski touring in Europe…
…or skinning or Alpine touring or sometimes backcountry skiing. It involves sticking a nylon material called skins to the bottom of your skis which allow you to hike uphill without slipping backwards. Specialised ski bindings leave your heel free and hinge at the toe so you can slide your skis forward. This allows you to travel uphill. When you reach the top you simply click your boots back into the ski binding, take off your skins and you have a normal ski, if somewhat lighter.
Here is why we love uphill skiing
Uphill skiing is a great cardio workout which takes you off the beaten track. It takes you into nature and away from the crowds. The feeling of being alone in the Alps is magical. The silence and panoramic views of the snow-capped peaks will take your breath away. We also love the satisfaction of getting to where you want to go under your own steam. By lunch time you have truly earned that plate of pasta and delicious glass of red wine in front of the blazing fireplace.
Why should uphill skiing be guided?
Especially in Europe, we think this is important. Uphill skiing can take you away from the crowds but you do need to be aware of the mountain and the risks. A qualified professional will choose the track, check the weather and keep an eye on the avalanche situation for you. You will be skiing or alpine touring in areas away from the domesticated ski resorts, sometimes far from civilisation which is exactly what we are looking for: to get away from it all.
Less environmental impact than a squirrel
The moment your ski touring day begins, you're creating zero environmental impact. In Switzerland we have reserved zones in the mountains called zones of tranquillity. There are two types of these zones. The first zones not enforced by law, so they are a suggestion. The second zone of tranquillity are "no entry" Zones. These areas are reserved for the animals and the forest. If you are found in these zones you will be fined. These zones have been studied and developed to protect the animals and the forest.
Non protected zones have been studied. The results suggest that we have little impact on these zones. As a ski tourer or uphill skier we do not ski against the trees, we know how to ski, and we have less impact than a squirrel. Our impact is less than a dear who brushes against a tree and eats the young shoots. We never leave anything in our tracks and so our presence has little or no impact on the environment.
We have a whole new page on the website dedicated to uphill skiing, although we like to call it ski touring. Check it out… all feedback is welcome.
Warm regards from the mountains.
Danielle