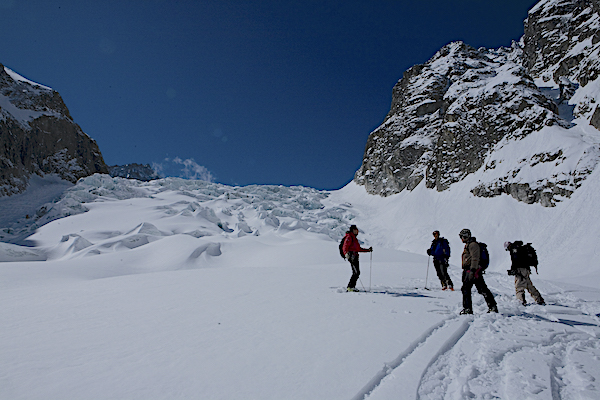 27 Nov

The difference between skiing in the Dolomites and the Alps
Skiing in the Dolomites
Nestled in picturesque northern Italy, the Dolomites are becoming increasingly popular for gentle skiing, great atmosphere, and delicious food. Technically the Dolomites belong to the Alps. But most locals call the range in Italy's northeast corner the Dolomites, while those in the northwest, in the Vallee d'Aosta, are the Alps. Still, the Vallee d'Aosta and the Dolomites are fairly different. But what exactly is the difference between skiing here and in the high Alps?
Ski level, snow quality, and terrain are key
When choosing a ski destination for yourself, there are so many factors to consider. Terrain, snow quality, altitude, the resort's ski style, your ski level and ambitions, and the culture and history around the ski experience are all important.
Skiing in the Dolomites can be a fantastic, chic, gentle ski experience with wide groomed runs and mouth-watering Italian food. However, for those wanting to get off the beaten path and escape the crowds, the Dolomites does not traditionally have a culture of off-piste skiing.
Ask yourself what you value in a ski experience. What are your aims on the mountain? Would you prefer to ski alone in nature or amongst the crowds? Are you looking for groomed runs or an off-piste adventure?
Wilderness vs groomed runs: a personal choice
Ski choices can be a very personal thing. In our opinion, skiing down a groomed run to a crowded ski lift to go to another groomed run and another crowded ski lift is not our ideal. Especially when just a stone's throw away is wilderness and freedom.
Plus, heading away from busy resorts can mean visiting a 700-year-old village or 1000-year-old monastery, crossing international borders and experiencing different cultures and cuisine. Not to be confused with difficult skiing, heading off the beaten track is more about having a knowledgeable guide who understands your ski level, than needing to be a kick-ass skier. But be careful, once you've had a taste of skiing in pure nature, it can be impossible to go back to resort skiing.
Some people prefer groomed runs and might not be ready for the next step. Skiing in the Dolomites on a ski safari is based on skiing from groomed run to groomed run. There are also many ski resorts with perfectly groomed runs of which Courchevel may be the leader in this area. Perfect for relaxed resort skiing, topped off with great restaurants and bustling villages.
Heli-skiing in the Alps and skiing in the Dolomites
Heli-skiing can be the icing on the cake of a fantastic ski holiday. It's key to understand the difference between real heli-skiing and simple heli-transportation. In Europe, heli-skiing in its purest form is highly regulated with only two areas allowing it for the moment: Switzerland and the Aosta Valley, Italy. True heli-skiing is not permitted in France, even though some of your heli-skiing descents will finish across the border in France. To us, that's what pure heli-skiing is all about. Heli-transportation can be fun but it's a whole other type of activity. We have written a few articles on the subject that you can check out here
If you're looking for a unique, private ski safari mountain experience where the world can't find you, look no further. Swiss Ski Safari is your answer.
Get in touch and we'll show you how.
Warm regards from the mountains,
SwisSkiSafari Team