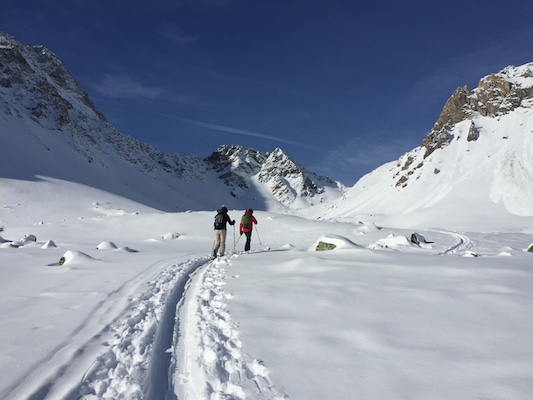 25 Jul

Luxury backcountry ski touring – The Haute Route

Ski touring the Haute Route means discovering probably the most famous backcountry ski trail in the world. It is an Alpine route that links Chamonix to Zermatt, reached on skis by touring from hut to hut. These authentic refuges are manned from the middle of March, which allows us to start ski touring the Haute Route in the Alps in Spring. The season extends to early May before the huts close down again. The opening and closing times of the accommodation depends on the guardian.

Planning your ski touring on the Haute Route

A tragic accident on the Haute Route occurred in April 2018, when 10 people unfortunately found themselves in severe difficulty. The group and the guide were caught in bad weather, trapped at altitude in a heavy storm with wind gusts up to 100 km an hour.  Limited visibility meant that they could not find their next hut, which was in fact only minutes away. This caused needless loss of life amongst the group and has shocked the whole Alpine community.

When living in the Alps accidents like this, even if we are not involved, affect us all.

Robert, our snow doctor, was called to comment on the weather conditions that the victims experienced, to help analyze the circumstances of the accident.

An incident like this on the Haute Route reminds us why we spend so much time planning our SwisSkiSafari trips. It looks easy when the weather is good, the sun is shining and the snow conditions are optimal but this catastrophic event was a stark reminder that is important to plan as if they are not.

Preparation for ski touring the Haute Route.

All of our itineraries centered on ski touring the Haute Route are led by qualified local guides who knows the area and who regularly check the Haute Route passageways to be aware of the conditions at all times.

The Valais region, home of the Haute Route, is frequently visited by a wind called the Feohn. This strong weather feature can turn the most perfect day into a nasty storm, and it can do so in just 15 minutes. If you know what to look for, you can see it coming but it often hits without much warning.

We have a plan B for each route for dramatic changes in weather such as the Feohn. It may be another hut, return to point A or descent from the mountain. We always set a cut off, when the decision to change the plan needs to be taken, and every one of our guides can instinctively spot the point of no return.

Crucial kit including a GPS, a change of batteries and a radio with the right frequency are always carried by our guides.

As a part of each days check guides will assess everyone's mental and physical condition, check the team's equipment and make sure everyone has hot tea, extra layers and anything else that might be relevant for the day's ski touring on the Haute Route.

Finally, our team make reservations at the mountain cabins and always discuss the plan, group numbers and any other relevant details with the guardian, especially if there is a hint of a weather change.

Here's the deal if things don't go to plan.

If despite all your planning you hit an unexpected scenario, and obviously we hope this would never happen to you when ski touring the Haute Route, here are our handy hints in any wilderness situation.

Protect yourself from the elements.

Make a snow cave (not as easy as it sounds)
You need an area with deep snow, out of the wind, not on a ridge if possible
Make a small cave with room for at least two people. Divide the group. It takes less energy to build a smaller structure.
Dig onto the side of the mountain and use skis and poles for the roof adding snow on top of a survival blanket
Make your caves 5 or so meters from each other. Talk, move, check on each other.
Building a cave requires physical work, so think about your layers. Have a dry one to change into for the night as it will be cold.
Use a rope outside, attached to your shelter to wander away if needed. In limited visibility if you walk away from the cave you may never find it again
Place your backpack, ropes and survival blanket under you to line your snow cave to keep as warm as possible.
Take turns with your partner between rest and movement. Move your extremities often. Remember to talk and move around.
Ski touring the Haute Route with Swisskisafari means that you will never have to make a snow cave unless you ask us. However it's always good to know how to protect yourself in a sticky situation. Interested in taking on a new challenge? Get in touch about ski touring the Haute Route.
Warm regards from the mountains,
Danielle