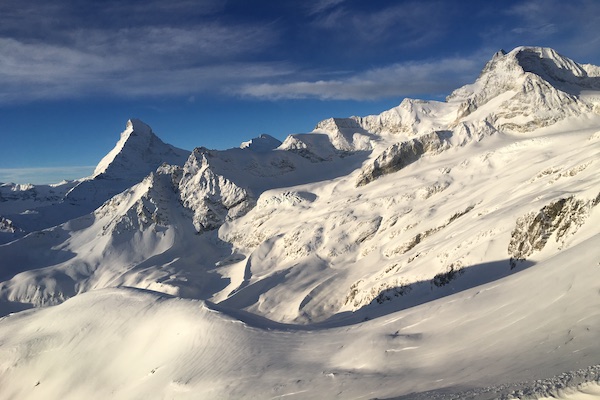 24 Sep

Plan your luxury tailor made ski trip now
As the days get shorter it's time to think about your next luxury tailor made ski trip
Imagine your luxury tailor made ski trip with roaring log fires, steaming outdoor hot tubs and pristine Alpine views. Picture yourself reaching a new level of skiing on exhilarating guided ski days, followed by cosy yet luxurious nights.
If this floats your boat, we suggest a ski safari. Live the excitement of skiing between Switzerland, Italy and France with us this winter. We are perfectly positioned living where these countries meet, making this our playground. This winter, we would like to share it with you.
Authentic Europe
Imagine sanded wooden floorboards that creak gently under foot and crisp linen sheets which crackle as you climb in beneath wooden beams. Elegant, stylish and oh so comforting. During the day we will whisk you away from crowded ski resorts into pristine mountain wilderness, secret local restaurants and little-known high-end hideouts for a completely authentic Europe ski experience. This is what it means to be on a luxury tailor made ski trip.
Unique to you
A luxury tailor made ski trip is unique to you.  Your customized itinerary will depend entirely on your objectives. You may want to bring the family together or to reunite some good friends. You could be looking for a romantic escape or a special way to celebrate a milestone. Or perhaps you simply want a ski trip that is out of the ordinary and away from the crowds. Are you ready for a new experience and to see the Alps from another perspective?
Cuisine is key
To truly experience a country, cuisine is key. On a ski safari with us you will delight in oozing hot, authentic Swiss raclette, beautifully simple Italian dishes and sumptuous French sophistication. These mouthwatering meals will fuel your skiing over the borders to reach yet another feast at an address to impress.
Next level skiing
Luxury tailor made ski trips are what we call ski safaris and they are our specialty, our focus and what we are good at. Forget generic sight-seeing groups, we are all about sharing our local Alpine knowledge with you. We're talking ski terrain, accommodation, gastronomy and more. We aim to help you reach the next level with your skiing and understanding of the mountains. If you want to leave the beaten track behind for a truly authentic experience we are ready to welcome you into our family.
Right now we are busy visiting our network of restaurants, cafés, boutique hotels and ski areas in preparation for the season. We love this time of connection: everyone is coming down from a busy summer season and excited for the winter. We are eager to take your wishes to our network to create a new, unique trip just for you.
For your next luxury tailor made ski trip give us a call.
Warm regards from the mountains
Danielle