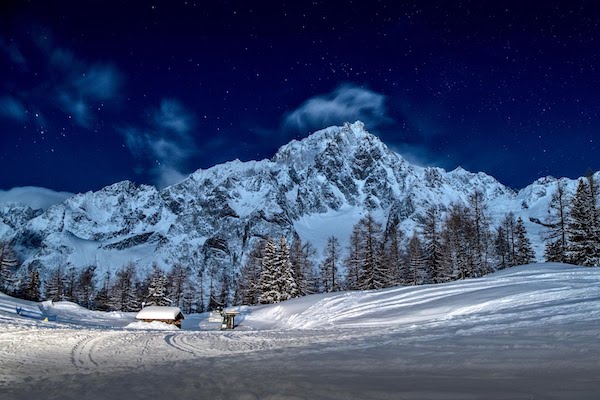 06 Nov

Off the Beaten Track Skiing

We have just completed our last summer trip. It turned out to feel more like off the beaten track skiing, hiking through fresh snow in winter gear. We crossed a dramatic glacier at 10,000 feet and recovered in a cozy refuge with a decadent hot chocolate: perfect.
Off the beaten track skiing does not mean extreme
What we love about winter is not just the skiing. It's the cozy warm feeling of belonging which we get after coming in from the wild outdoors, safe inside a comfortable boutique setting. We also love the silence of snow fall and waking up to a blanket of white outside the window, with the feeling of seeing it all for the first time.
When returning from ski safaris or sharing photos I often hear the comment "oh that looks extreme". I grapple with this. What we do is not extreme, it is off the beaten track.
The definition of off the beaten track skiing for us is escaping the crowds.
What we do is always adapted to you and your skill and comfort level.  While our trips are away from the crowds they are not necessarily extreme, unless of course that is what you are looking for.
For instance, we recently discovered a cute little wooden refuge deep in a forest. Only reachable by helicopter or ski touring, this little cabin in the woods offers a cozy environment prefect for unwinding. Here, you really feel alone in the Alps. It's hardly extreme but it is definitely off the beaten track.
The trick to successful off the beaten track skiing
The trick is to head in between resorts, away from groomed runs. This way you get the best of both worlds. You experience wonderful hotels and restaurants and by day and you get to escape the crowds.
For safe off the beaten track skiing a qualified leader with specialized expertise is necessary. You really need a local expert to explore the areas you're in. Willingness to try ski touring also helps. Putting on skins and walking uphill can be a new, fun experience and it is definitely a great way to explore the Alps. Ski touring opens up underrated destinations, tiny European villages and wonderful, top quality local food and wine.
Right now we are investigating new and exciting destinations within our area of expertise, the Alps. Stay tuned for more detail. For those looking for something adventurous, new and interesting, why not consider off the beaten track skiing for 2020?
Warm Regards from the Mountains
Danielle