29 Jun

Kiss My Face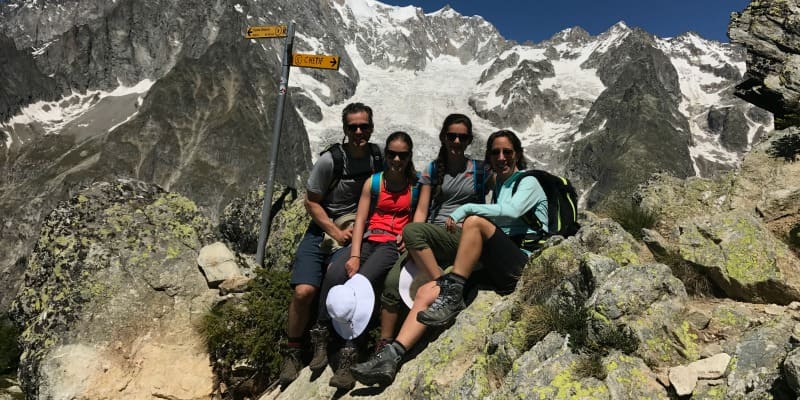 Kiss My Face
How do an outdoor-loving family maximise Europe on their first ever visit? See three countries in as many days… and do it mostly on foot.
Cross-border sunshine
Last week I had the privilege of showing a young family from the US some of my favourite corners of the Alps. We hiked from Italy to Switzerland in dazzling sunshine, along scenic meadows, through shady forests and scrambled up dramatic peaks, stopping to snap glaciers and admire jaw-dropping views of the mighty Mont Blanc. Together we conquered the heatwave by sticking to cooler, higher altitudes, picking tree-lined paths and ultimately braving a dip in an ice-cold glacial river. It was a case of daring to see how much of our bodies we could get into the freezing water before going utterly numb. As far as heatwave respite goes, I can highly recommend this.
New country, new cooldown
Maybe not so brave, but another equally fun cooling technique was popping into France for ice cream, accompanied by mouth-watering crepes. Not everybody can say they tried that.
Crampons and t shirts
Our grand finale was hiking over a 10,000 meter high glacier on the last day. The contrast of crampon-clad feet cracking the ice below us, while wearing just a simple t-shirt on top made it even more exhilarating. Smothered in Kiss My Face sunscreen, the whole team went home sunkissed and exhausted but elated after an unforgettable Alpine safari.