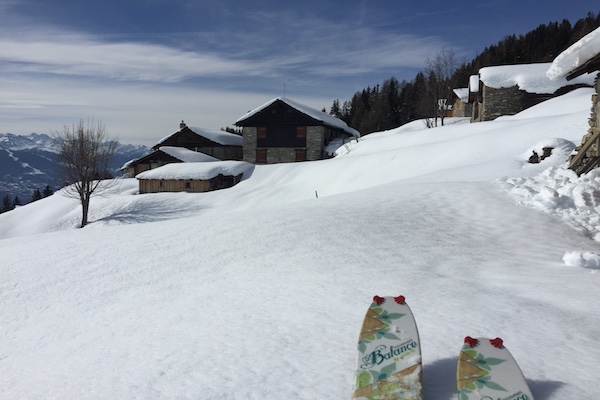 13 Nov

How to choose your boots for a ski safari in Europe
How to choose your boots for a ski safari
Ski boot technology has changed dramatically over the last 10 years. When it comes to getting the right boots for your mountain expedition there is now a lot more to consider. Read on for tips and advice on how to choose the perfect ski boots for your ski safari.
Starting to choose your boots for a ski safari
What sort of skiing do you enjoy? What sort of skiing will you be doing soon? Think about your skiing in the future. From on piste to heli skiing, ski touring or deep powder skiing, your boots need to be the right type. This is important to ensure you get the best out of your ski experience.
Popular trends: in Europe, it's all about ski touring
Ski touring is done off piste, in between ski resorts, behind ski resorts or utterly in the wild. Ski touring requires your heel to be free from your binding. This allows a natural gliding motion for walking or hiking with touring skis on.  Boots for a ski safari packed full of ski touring need to be designed specifically for this, with a lot of flexibility around the ankle.
Ski touring skis
On the bottom of ski touring skis you'll typically find a fabric which clings on to the underneath of the ski. This is for ascending the mountain, and is removed for downhill skiing. Touring bindings are designed to allow free movement of the heel for uphill. They adjust and become normal supportive ski bindings for the descent. Similarly, touring boots need to have some flex at the ankle. They also have the ability to be blocked to resemble a normal stiff ski boot for the descent. Boots for a ski safari of this kind are different from a normal ski boot. They are lighter, not as stiff and require you to use your legs and balance to make a turn rather than the stiffness of the boot. It is a very different style of skiing. With the correct kit, touring can be a fun, exhilarating alternative to normal downhill skiing.
Do boots for a ski safari require a boot fitter?
Absolutely. Ski boots are expensive and it is essential that they fit well. Find a good boot fitter with many years of experience. A good boot fitter will look at the shape of your foot, your height and your weight. He or she will ask you how you ski, and with all of this information they will probably recommend heated and molded boot liners to fit your feet perfectly.
It's likely you'll need to go back to your boot fitter a few times to iron out little problems with molded liners. Choose someone close to where you ski or choose someone located where you will spend at least a week skiing. You will be able to visit for small adjustments. For years of peace and comfortable boots, its time well spent. Being in pain because of your boots on a ski safari is not what you want.
Do I need specialist insoles for my boots for a ski safari?
If you have any problems with your knees or feet, yes, this is a great idea. It can be time-consuming and expensive but will give you years of pain free skiing, as with hiking or running, if you find the right advice.
Do I need ski touring boots for a ski safari?
Not necessarily. It depends on what sort of ski safari you will be doing. All of our ski safaris are tailor-made so you tell us how adventurous you want to be. Your ski safari can be a mix of side country skiing, which is off piste accessed from ski lifts with minimum walking, meaning there is no need for ski touring boots. It could be a hardcore ski touring trip with many vertical meters of climb, or it could be a ski safari where you decide to try ski touring once to see if you like it. In this case we'd advise you to rent your kit and see what you think.
Be sure to talk to us during your trip planning for advice on all of the above and more. If you think it's is time to buy new boots for a ski safari next season, get in touch.
With your new boots ready to go, here is some trip inspiration for where to best make use of them.  Get in touch for your next ski safari in Europe, our way.
Warm regards from the mountains,
Danielle