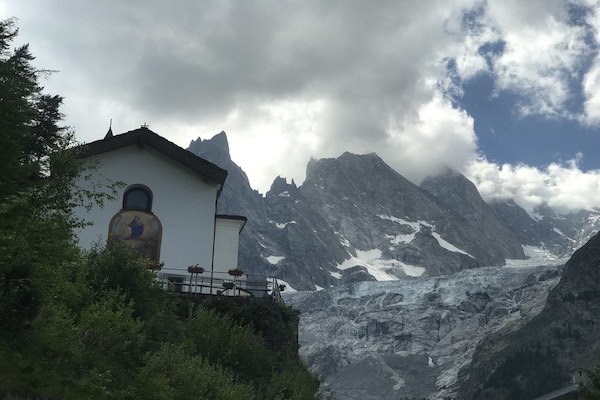 12 Aug

Crisp Summer Air and Historical Hiking Trails

Hiking trails on Roman roads this summer was a highlight. Warm summer air holds a vibrancy that winter seems to lack. The sky appears bluer and the future feels more promising. From dazzling sunshine to vibrant wildflowers, summer in the Alps is particularly beautiful.

Crisp, green hiking trails

This July has been a gem. At the start, while the rest of Europe saw very hot days, up at altitude the air was refreshingly cool. The snow line, this season was low at 2200 meters. In July, snow this low is unusual.

The result of this amount of snow and it's run-off has made the lower hiking trails crisp, green and delightful to hike. The Swiss, Italian and French walking trails are well maintained. This makes hiking from village to hamlet and country to country enchanting.
Hiking trails through history on the Via Francigena
Hiking sections of the Via Francigena has been the highlight of the month. Originally a holy pilgrimage road to Rome from Canterbury it was first mentioned in 876 AD. The  route stretches over 1900 km and through four European countries. Winding through England, France, Switzerland and Italy it takes approximately three months to complete and is drenched in history. In medieval times it was an important pilgrimage route for those wishing to visit the holy city and the tombs of the apostles Peter and Paul.
Rather than being paved with stone blocks like traditional Roman roads, the Via Francigena comprises several different hiking trails that changed over the centuries as trade and pilgrimage shifted, depending on the popularity of the shrines and the saints along the way. Another important point is that unlike Roman roads, the Via Francigena did not connect cities, but focused on significant abbeys in each country.
Calm your mind, avoid the crowds
When passing a few pilgrims on our trails this month, we commented that these paths were probably much busier back in medieval times. However today we rarely cross other hikers.
At Swisskisafari we aim to stay away from the busy tourist hiking trails that become very crowded during the summer months. The road less travelled and less known is always the most charming, giving you time to calm your mind and enjoy the surroundings. The Via Francigena is one of these less travelled paths.
We want you to contemplate the beauty of the earth while you are with us and find reserves of strength that you can take home to endure the busy lifestyles that we know many of you lead. A walk in nature will help walk the soul back home.
Wishing you all a lovely summer on beautiful hiking trails.
We are already planning our winter trips. Check out our blog on the inner workings of a luxury ski safari for some inspiration for your next winter adventure.
Warm Regards from the Mountains
Danielle