14 Mar

Alternatives to hiking Mont Blanc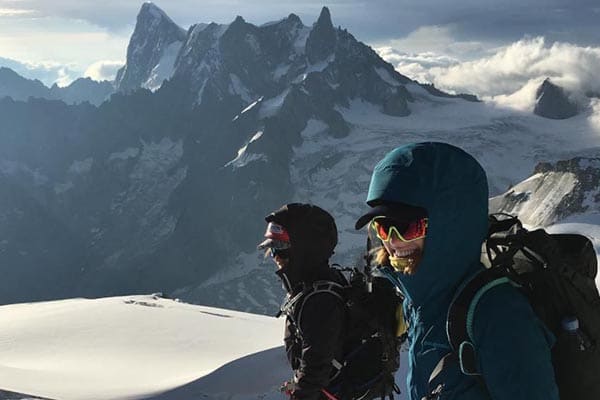 Hiking Mont Blanc tempts climbers of all abilities, being Europe's highest mountain and fairly easily accessible. But during climbing season people flock to it in huge numbers making it crowded and, depending on the weather conditions, it is not without risk.
Queues not views
With 200 people summiting Mont Blanc a day, you can forget having a picture-perfect moment to yourself when you reach the top. In fact, you'll probably spend more time looking at queues than views. And who wants that? Rock and ice falls have also made it dangerous in the past, and bottlenecks on the mountain paths don't help.
Alternatives to Mont Blanc
If hiking Mont Blanc is on your bucket list, but you want to escape the tourist crowds, why not consider tackling one of the equally rewarding neighboring peaks? As we begin to plan for summer, here are some of our favourite, lesser-known Alpine adventures, from easy hiking to the really challenging.
Europe's highest mountain refuge
Reaching the Margherita hut, perched on top of the world at 4554 meters, involves a spectacular hike. The atmosphere begins to build at 4am, when crampons are needed from the very start. The route, which runs along a pristine glacier, is long but not technical. After an exhilarating day of jaw-dropping views and a scenic descent, you'll end up walking through rolling green fields and enjoying an ice-cold beer in the sun… naturally. We suggest topping this day off with a 5-star hotel and Michelin-starred meal. You'll certainly deserve them.
A remote glacial dam
Hiking to a glacial dam is another unforgettable adventure. Our favourite has a beautiful path following the clear blue water's edge with a dramatic mountain backdrop, and this hike ends up at an authentic mountain refuge overlooking a tumbling glacier. Spend the night here and you'll wake to these postcard-perfect scenes before continuing down into the next valley which gazes up to the Matterhorn, for a night in luxury. We love the interjection of one night in a rustic setting before returning back to fine dining and a steaming hot tub.
Sunrise on the Haut Route
Why not enjoy the silence of the Alps from a summit overlooking Mont Blanc? Soak up iconic panoramas while glowing with the satisfaction of scaling a mountain of your own. Alternatively, the Haut route is another classic, yet less busy mountain adventure to take on. Hiking across the Swiss-Italian border at 3500 meters altitude, above a glacier as the sun rises, is a moment not to be missed.
Buvette dining by day, Michelin stars by night
Whichever adventure you choose, we always recommend tasting the local specialties in the buvettes which are dotted throughout summertime cow grazing pastures. These peaceful spots are perfect for a moment of solitude: enjoy the mountains far from the crowds and chat to locals who have time to tell you stories of the area.
All these stunning experiences are achievable by anyone if planned correctly with just the right amount of time at high altitudes for safety and comfort. And, of course, whether you're hiking Mont Blanc or exploring alternatives, we believe that every challenge should end with a well-deserved hot shower, comfortable bed and spectacular views from a sumptuous hotel.