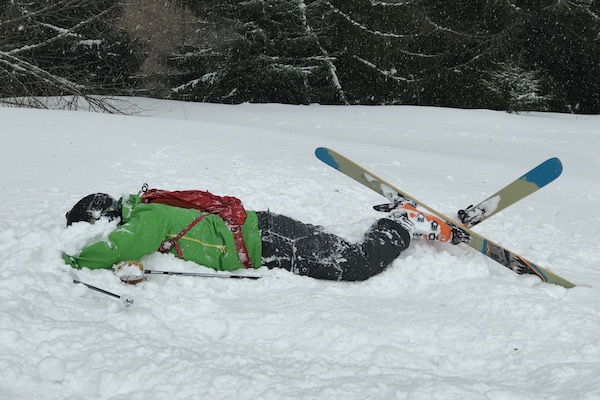 09 Oct

A Ski Safari in the Alps –5 ways to prepare to be ski safari fit

We recently spoke to a friend about the best way to get fit for a ski safari in the Alps. He is a high performance fitness coach for up-and-coming ski racers. We asked him for some suggestions.

The origins of the term "ski safari", and the reason we called the company Swiss Ski Safari, stems from 13 years ago during an avalanche training course which involved moving around the Alps. This intensive course, observing snow formations and skiing through unchartered territory for a week, was physically demanding but the wilderness was inspiring.
Ski Safari, alone, in nature
The concept of a ski safari in the Alps was born.  The term was not used in the industry back then. Skiing from crowded ski lift queues to other crowded ski lift queues via groomed runs was finished, as far as we were concerned. We had discovered the freedom of movement. The sheer amount of off terrain covered, alone, in nature, inspired us to create SwisSkiSafari.
Many people share our passion now and join us for our ski safaris in the Alps. Being fit definitely helps us enjoy these off-the-beaten-track adventures.
Five training tips for a ski safari in the Alps
Our trainer suggests that you need to work on 5 things: endurance, core training, strength, agility and flexibility.A ski safari in the Alps can involve skiing descents much longer than a normal ski run, which is where endurance comes in.  Our expert suggests running, mountain biking, road biking or trail running in preparation; any long distance sport where you run up and down hills is good.
Core training 
focuses in strengthening your core, back, shoulders, chest and the abdominal area. When you are on a ski safari in the Alps you will be wearing a backpack containing safety equipment. While not skiing fast we are winding around trees in a forest or pushing ourselves over a lip to reach the next valley. Your core muscles help you in all of these activities.
Strength 
applies particularly to your legs. Strong leg muscles will help avoid knee injuries. Exercises such as squats, stepping and working with a soft ball for balance and strength are ideal.
Agility and flexibility
On a previous ski safari in the Alps we needed to all duck under a low hanging branch to reach our perfect powder snow run. I distinctly remember the mum of the group clearly singing out "thank you to my pilates teacher" as she whipped under that branch effortlessly. Our trainer suggests exercises of co-ordination and speed such as running across a ladder on the ground sideways. Moving precisely, fast and with agility.
The level of difficulty of your ski safari in the Alps depends on you.
As each safari is tailor-made we take your direction before creating the safari and can dial it up or down as desired. Certain ski areas will be more challenging terrain than others. This is something that we take into consideration at the beginning, in the planning stage of the trip.
A professional athlete will be training 28-30hours a week. For us normal people, three times a week is a good goal…oh and don't forget stretching and relaxing as this should become a part of every training session for your ski safari in the Alps.
If all this talk of skiing, snowboarding  and getting fit in the Alps has got you ready to put on your boots, ski across borders, explore old Roman villages, inhale fresh Alpine air and take in the beautiful mountain scenery, give us a call.
Warm regards from the mountains,
Danielle