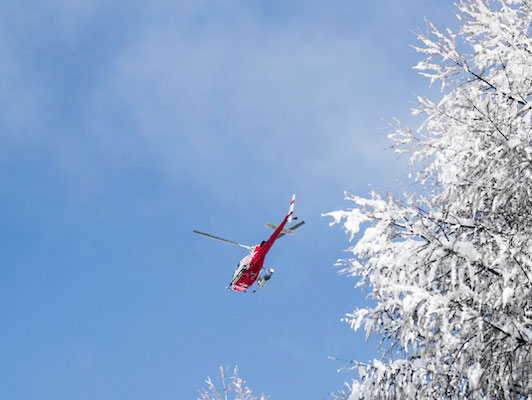 22 Sep

A good heli-ski trip: the essentials

We love inventing new heli-ski trips. It is SO. MUCH. FUN.

Right now we are planning a new, never-been-done-before experience, so here are our thoughts on what makes a good heli-ski trip.
Pick someone who lives in the region
Living and working in the area is more important than you may think. It gives experts with unrivalled experience of the mountain and weather conditions who are working to make your trip the greatest. You cannot plant yourself in a new country and expect to be the expert. Many of our travelers ask us to guide them all over the world, to which I reply that intimate knowledge of our area is what makes our trips so good. That level of experience cannot be bought, it can only be earned. So lesson number one for a good heli-ski trip is travel with people who live and work in the region.
Follow the snow
The best snow dictates where your heli-ski trip can take place. This is why local knowledge is essential. Switzerland and Italy have controlled landings and pickups, as well as incredible micro climates. While the snow might not be good in one area it can be spectacular in the next valley. With helicopters mostly landing right on top of mountains, each heli-ski descent is an unbelievable adventure. You might call it a cross between backcountry skiing and alpinism in the most stunning mountain environment in the world. With specialized and intimate knowledge of the European Alps, the most breathtaking heli-skiing can be found. Add to this the European charm, sophistication, hotels, wine, food and heli-skiing between different countries and it is the only way to experience heli-skiing.
Pick a time window, not a summit
You cannot heli-ski in Europe by choosing your summit. This is a sure-fire way to ensure that you will not have a good experience. What you do need is a window of time, an expert by your side and a flexible, open mind ready to change geographical areas as the weather changes. Also, do not focus on vertical feet per day. That might work in North America but it is not relevant to European heli-ski trips. Our runs range from incredibly long to short and sharp (more like North American runs). It depends on where you are heli-skiing.
European heli-skiing cannot be broken down into these simple, misleading points that are relevant for North America but not for Europe.. For example, take the 'ski in, ski out' scenario. If you use this as a measuring stick in Europe you will probably miss out on the best skiing in the world. Why? European ski resorts are often based in centuries-old villages which are not located on the ski runs. This is what gives Europe the charm and the authenticity that you are looking for when you plan a heli-ski trip here.
Stay tuned for our new heli-ski trip, we will have all the details soon. If you are interested in learning more about heli-ski have a look at our 101 blog Heli-skiing in Europe.
Warm regards from the mountains.
Danielle