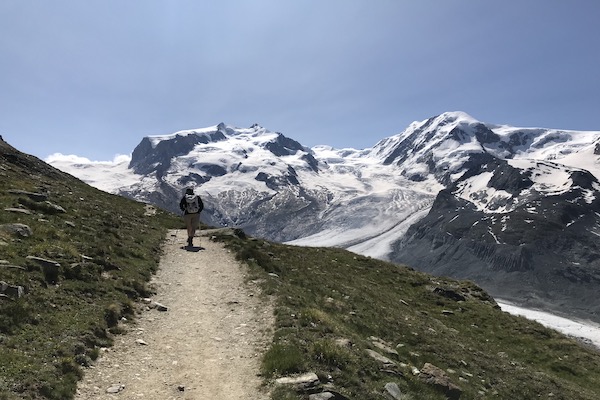 03 Aug

8 essential tips for safe summer hiking
Safe summer hiking begins with the weather forecast
Number one on your checklist for safe summer hiking should be a detailed local weather forecast. It may be sunny at warm where you are but cold and windy at altitude, and the weather could change dramatically during the day, especially in the mountains.
Online weather forecasts may not always be accurate. The locals have the best knowledge of the weather in their region, so heed their advice. The Alps experience microclimates, meaning weather from valley to valley can differ, as well as from the start of a hike to the end.
Know your local conditions
Local conditions will affect the state of summer hiking trails, such as dictating if rock fall is a risk in certain areas, indicating whether any areas are waterlogged or tell you if any paths have been washed away. This is why a local report is critical before any mountain hikes.
Be snow-wise for safe summer hiking
This summer we have seen snow on trails way into July and at a relatively low altitude. Snow on the trail can mean wet, slippery terrain so when preparing for summer hiking attention needs to be paid in these areas.
Dress appropriately and be prepared
Always bring waterproof and windproof outer layers even if bad weather isn't forecast on your summer hike. We also suggest a compactable warm layer that can be worn in-between these layers, a thin pair of gloves and a beanie. A sun hat will help protect against sunburn and heat stroke and a light, long-sleeved shirt with a collar is a must if you are sensitive to the sun. Be prepared for any weather. An extra set of socks to change into if you are too hot or get wet feet at any point can also be very handy.
The early bird catches the worm
For safe summer hiking an early start gets you ahead. Aim to complete a lot of your hike before the temperature peaks, or if hiking on a glacier try to cover the risky areas before the temperature is too high and can change snow conditions making it challenging to walk through. If you have two thirds of the hike done before the heat of the day you'll have emergency time up your sleeve in case of unexpected eventualities… or time for an extra cool beer at the end.
Hiking at average speed causes your body to lose approximately one liter of water every hour. In heat, that amount can double. Bring a lot of water and sip it constantly. Your body cannot efficiently absorb more than half a liter of water every hour, so drink consistently.
Pay attention to your sodium and potassium intake while you hike. A pinch of natural, unprocessed salt in your water bottle can do wonders, as can nibbling on trail mix along the way.
Slow down and enjoy the journey
Safe summer hiking means giving yourself a break from time to time, especially if you are hiking in warmer temperatures or at altitude. Stop to admire the view, stretch your muscles and let your body cool down before continuing.
Let us know how we can help you better plan your summer hiking trip in the Alps. When you travel with us, you become part of the SwisSkiSafari family.
Warm regards from the mountains,
Danielle